IONE GAMES
OFFICE SPACE
2021
Laconic and bright open-office space for game design company, with playfulness and functionality.
Total area 520sq.m
Photo by Nikolay Korsun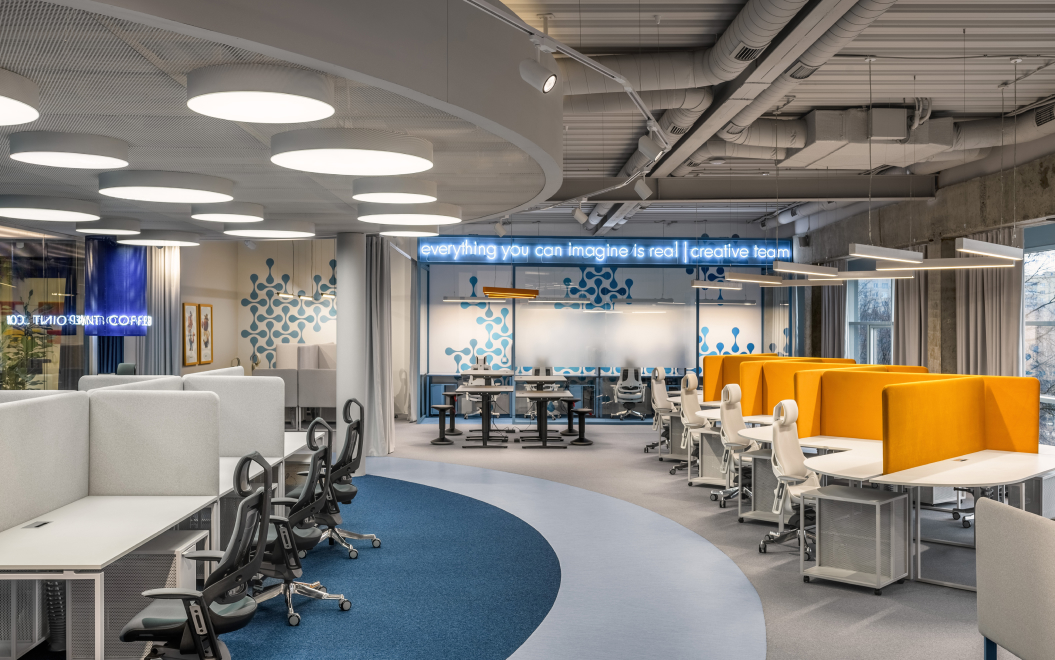 Office for the developer of cellular games IONE games.
The main requirements for the design were maximum open space, multifunctionality of recreation areas and a variety of lighting.
The workspace is designed for 40 seats. In addition, the office provides: two meeting rooms, a dining room with a kitchen, an amphitheater, a mini-gym, a game room and a garden for relaxation, as well as additional administrative and technical rooms. The whole space is in light gray tones with different shades of branded blue colour, and with accentuating orange elements.
Entrance is welcomed from the reception, small waiting area and a small meeting room.
Contrast of the space is a large 12 meter mural with an element of the company's brand.
In the center of the office is an accent core with a circular bypass around it for convenience of communication with different parts of space. Half a core set aside for workplaces and a separate place for a coffee point. In another block there is a large meeting room, a mini gym with Swedish wall and the opportunity to practice yoga, and also a relaxation area - garden, with hammocks and massage chair.
The amphitheater area also can be used both for work with the laptop, and for carrying out various events with a possibility of isolation by curtains.
The dining area with kitchen designed in pleasant light shades and orange color, with different types of seats for maximum convenience.
Also in the office there is the most comfortable dressing area, designed for company employees, with shower and separate toilets.